For those analyst teams who require a single source of truth, FirstLight Team Edition™ offers a centralized intelligence platform to coordinate team activities and impacts.
Typical applications of FirstLight Team Edition™ include:
Comprehensively survey an entire industry or group of competitors (both direct and indirect)

See the interplay between several trends – both longstanding and emergent

Keep your executive team, board of directors and stakeholders continually in the loop with your activities

Demonstrate your return on investment inside your organization

Use real-time engagement metrics to hone your intelligence product quality and delivery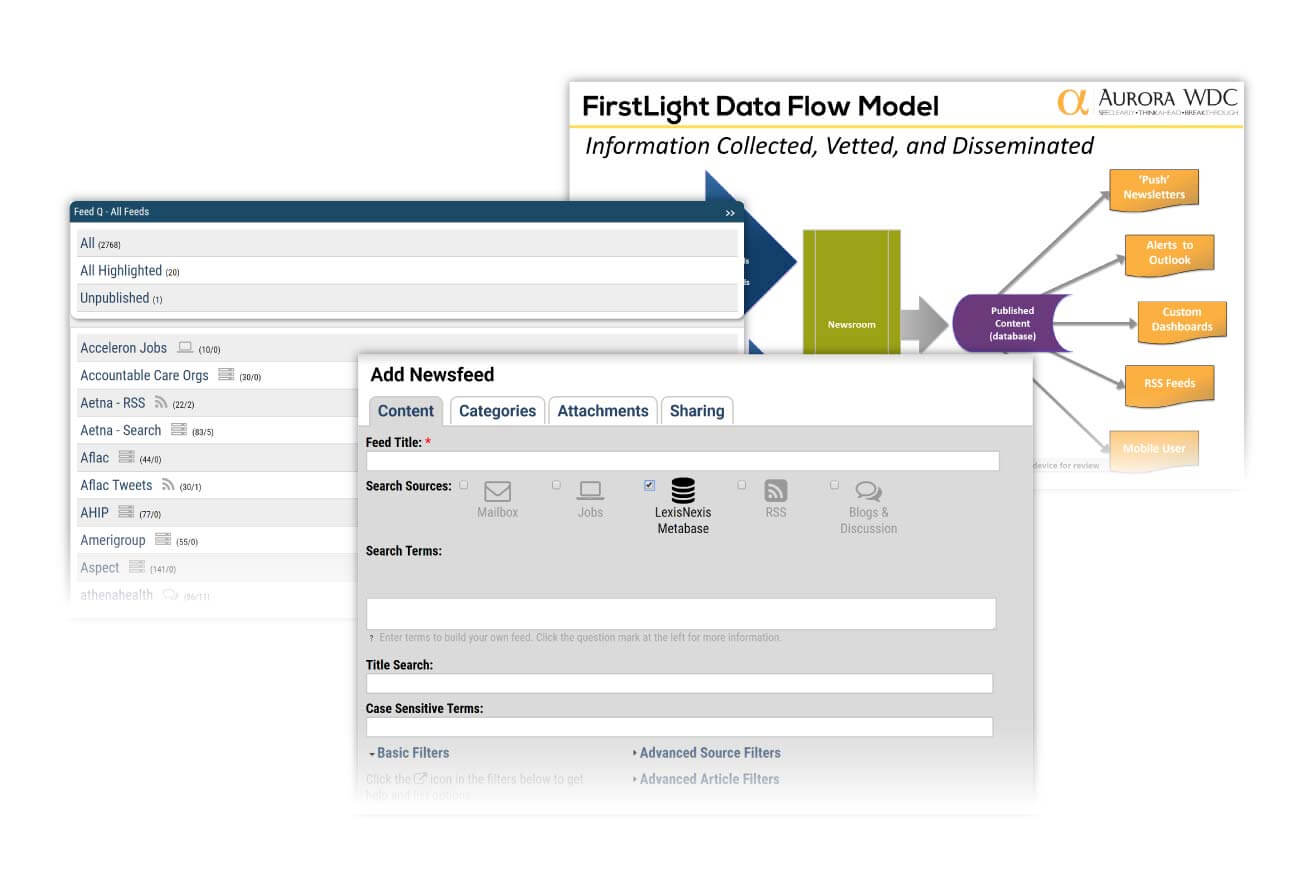 Collection
FirstLight supercharges your collection capabilities by providing access to thousands of hard-to-find data sources, including industry-specific databases you choose.
FirstLight centralizes all of your data sources in one place, creating a "single source of truth" for your intelligence gathering.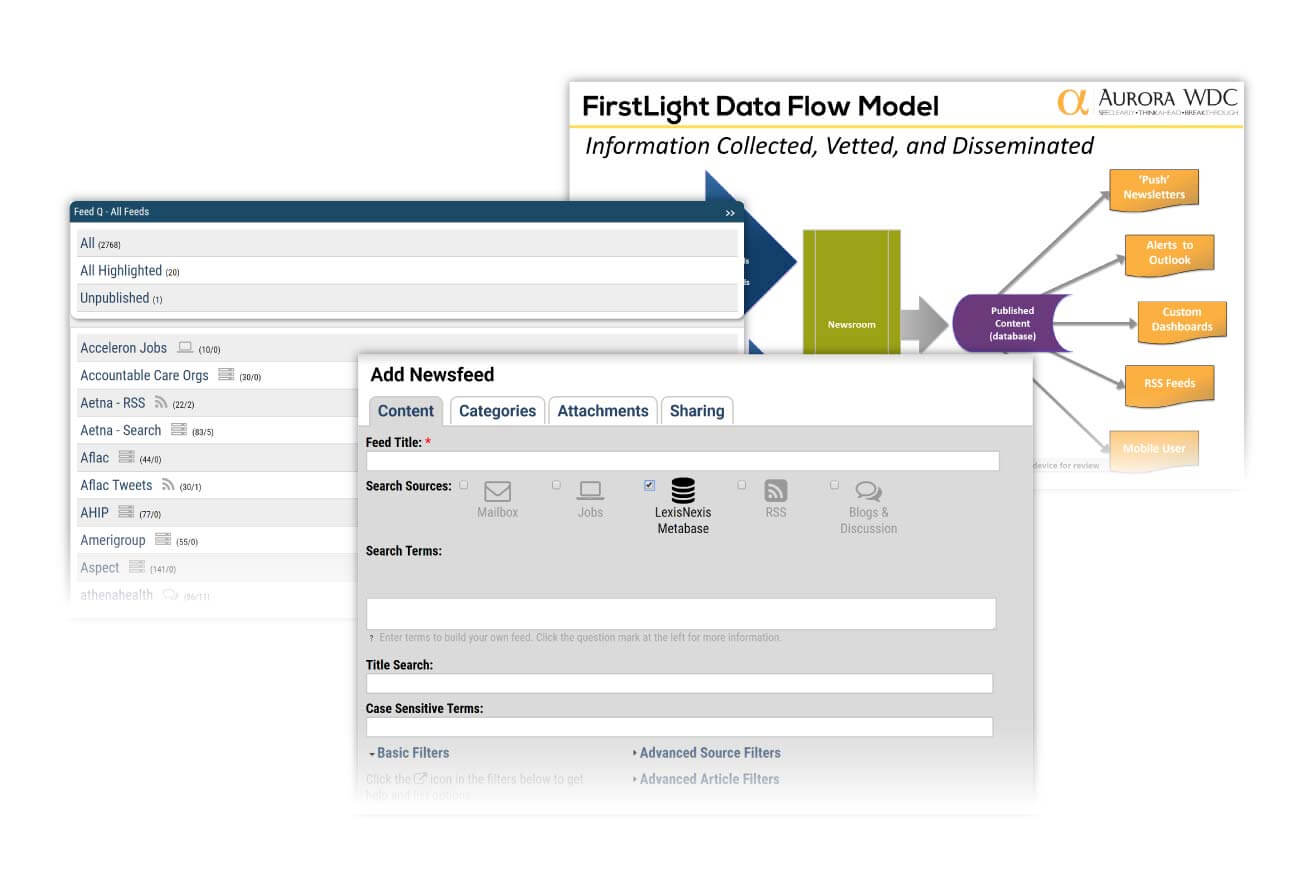 Collection
Powered in part by over 65,000+ sources, FirstLight makes sense of this vast database with powerful filtration tools
We can tailor FirstLight data sources to your industry and your organization with nearly limitless data types: CRM, Market Research, Clinical Trials, and Web Page Scraping
Analysis
FirstLight manages the manual tasks of synthesis for you – removing duplicates, analyzing source quality and tagging inputs – to free you up to focus on human analysis.
FirstLight supports methodologies from curation to automation depending on your needs and staff availability
Analysis
Customizable dashboards offer myriad concurrent views of disparate data, allowing you to use your judgement to craft the perfect intelligence storyline for your organization, its stakeholders, and its goals
Off-the-shelf data visualizations help pull insights and trends from data – all without custom coding and time-consuming setup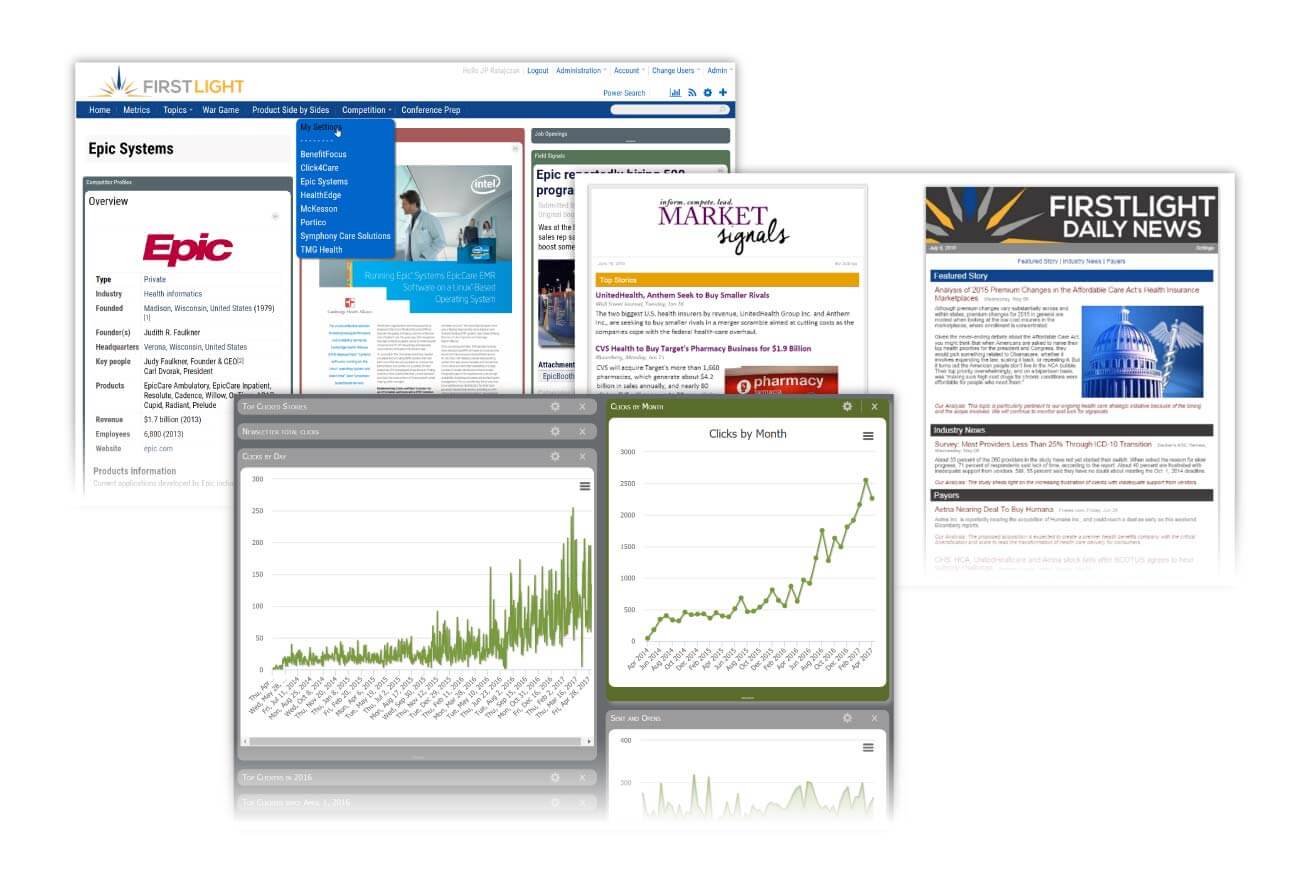 Reporting
FirstLight makes it easy to share tailored intelligence reports and newsletters with exactly the people in your organization who need to see them – and know how engaged they are.
Tailor reporting to groups or individuals at every level of your organization, including dashboards
and newsletters, to maximize readership and impact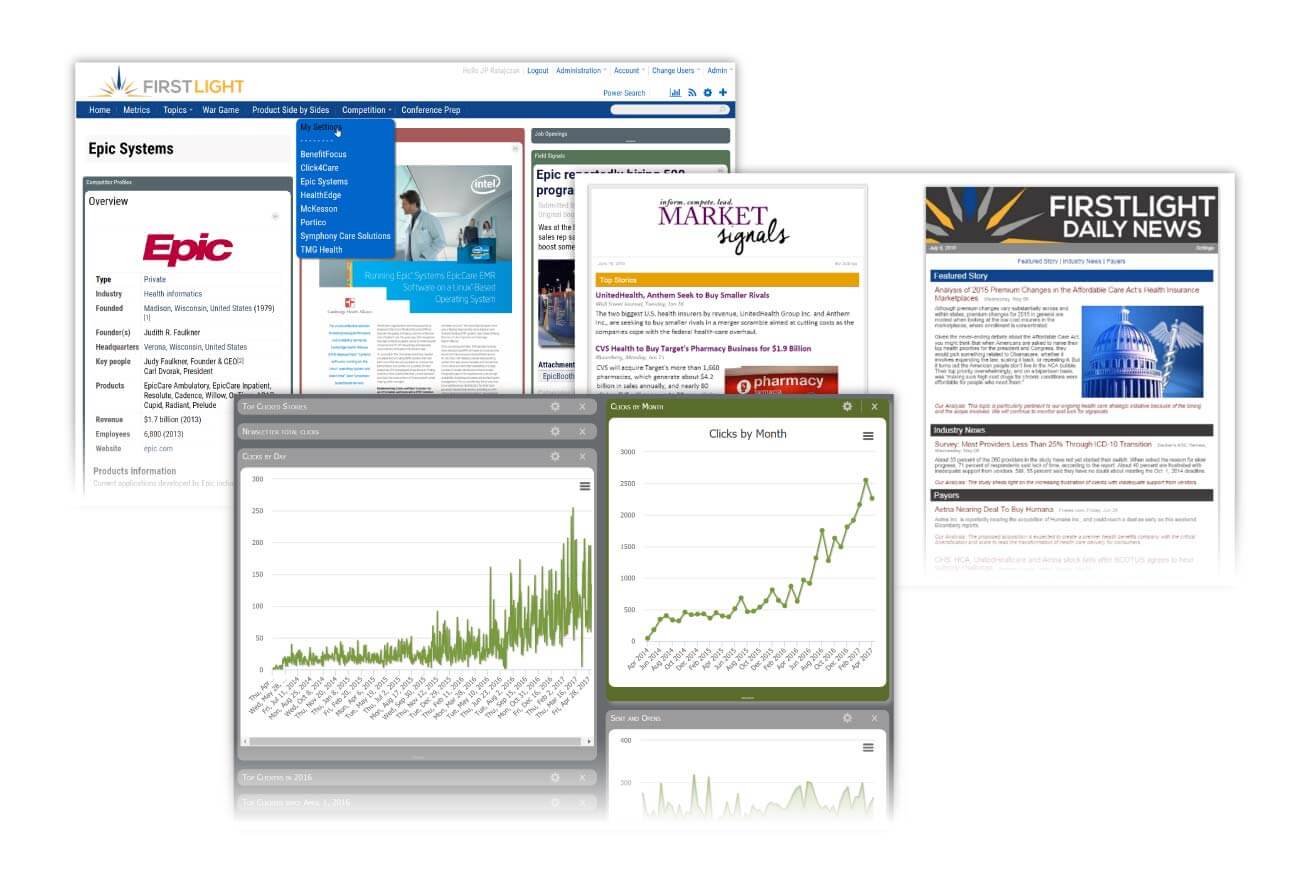 Reporting
FirstLight reporting helps you see (in real time) exactly who is engaging with your content, showing you where to direct your efforts and where you are having a tangible impact
FirstLight data can integrate with other business systems including CRM, corporate intranets and Chatter-like tools, allowing intelligence content to be a seamless part of the base knowledge of every organization
Do you have intelligence needs, but don't have the analyst staff to address them?
For organizations with intelligences needs but without the staff resources to address then, FirstLight Virtual Analyst™ offers a qualified intelligence analyst to augment your team and operate your FirstLight platform on a day-to-day basis.
Need to broaden the intelligence culture throughout your organization?
For those analysts committed to a full Intelligence Operating System™, FirstLight Enterprise Edition™ offers a complete bespoke intelligence backbone capable of serving any size organization.
Learn how FirstLight Team Edition can help you magnify truth™ inside your organization.
Send us a confidential email to inquiry (at symbol) aurorawdc (dot) com and we will arrange a private call to discuss your unique situation and requirements.